We Are Tidewater Painting
We love what we do and it shows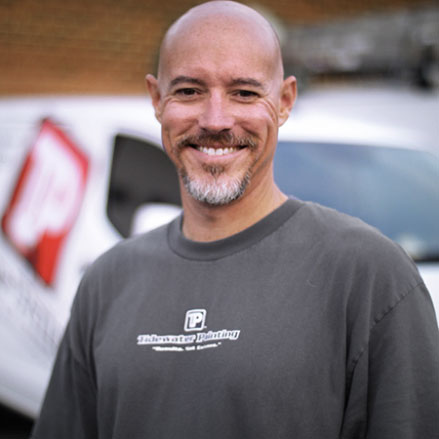 Tidewater Painting was founded in 2002 right here in Chesapeake, VA. We started out doing mostly residential repaints and a few new construction jobs. It wasn't long before we added pressure washing, deck staining and sealing, roof cleaning, rotted wood replacement, wallpaper removal and more to our list of services. Our company quickly grew but our vision stayed the same. To provide the best service possible while maintaining fair prices.
We believe in working hard and treating people right, in building lasting business relationships. Our impressive list of repeat customers and referrals is a testament to those principles. We boast a dedicated, highly skilled staff of seasoned professional painters. Unrivaled work ethic and our keen attention to detail are what set Tidewater Painting apart. So now, well over a decade later, and by the grace of God we are still going strong and we still love what we do! So, when you're ready to start your next project, give us a call. We look forward to it!

Who are we? We are Hampton Roads natives.
Our Client List Has Grown To Include:
ROSE & WOMBLE REALTY
THE REAL ESTATE GROUP
BURGESS SNYDER
COLLIER CONSTRUCTION
ASHDON BUILDERS
TURTLE ROCK CONSTRUCTION
BASHAM BUILDERS
BRAY RESTORATION SERVICES
LANGLEY AIR FORCE BASE
PENINSULA SPCA
COMMUNITY CHURCH
WAFFLE HOUSE
FOOD LION
TRIANGLE RENT A CAR
PEARL VISION
CHARTER COMMUNICATIONS
AUTOBELL CAR WASH
RE/MAX REALTY
BRINKS SECURITY
HILTON HOTELS
TGI FRIDAY'S RESTAURANTS
VALUE CITY FURNITURE
JENKINS RESTORATION
WILLIAM E. WOOD REALTY
Get a Free Estimate. Contact Us Today to Get Started
Things We Are Proud Of
Since 2002, Tidewater Painting has been building it's reputation for excellent service and quality work.
We go above and beyond the call with services that make your home or business shine.
Our Customers Love Us
And Here Is What They Have to Say
"I do not usually recommend people but I wanted to make sure you received credit for your magnificent work. You can really tell the difference between a group of guys that are clock watchers and the crew that painted my house!"
"What a difference a little bit of paint made. It was worth every penny. The workers were pleasant to deal with and Jeremy knows his stuff. I shopped around a bit first and am happy to say that I made the Right Choice!"
"Price was extremely reasonable, he was able to schedule it within a few days (weather permitting) and the stained deck looks awesome. I will definitely use Tidewater Painting for future projects, Highly recommended."